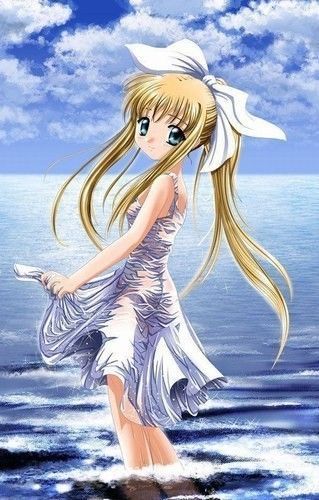 Basic Info:
Name:
Yuki Hayase
Age:
16
Gender:
Female
Class:
A-2
Financial Ranking:
Middle Class
Physical Appearance:
Hair color/style:
Blonde she will usually have it in a pony tail tied with a big white ribbon
Eye color:
Light blue
Appearance:
Usually wears dresses that go to her knees
Height:
5'7"
Weight:
129lbs
Other:
N/A
Personality Info:
Personality:
She's very laid back and loves to make new friends. She can be shy at first, but once you get to know her she's very nice. She isn't very loud, but when she is it isn't very loud either. She'd rather be quiet and preserve her energy.
Likes:
Sweets, nice people, and animals
Dislikes:
spicy things, sour things, mean people, and people that are cruel to animals
Talent(s):
She can draw and play the flute very well
Habit(s):
She fiddles with her hair or taps her foot when she's nervous
Fear(s):
bugs and death

History Info:
Birthday:
May 24th
Guardian(s):
Her adoptive mother
Guardian(s) Occupation:
She's a famous book author, but doesn't make enough to keep up with bills
Sibling(s):
N/A
History:
She had been living in an orphanage till she was about three and then her mother that she knows today came and adopted her. She's lived with her mother since she was three and she's known that it was hard for her mom to get from pay check to pay check so as she got to the age of getting a job she applied to many and took many of them on to help her mom pay all her bills on time. She has a pet crow that she found one day at the park she's named him Sora and is usually found with him everywhere. Most of the time she has no time on her hands to do anything with all the jobs she has to take on.
Other:
N/A