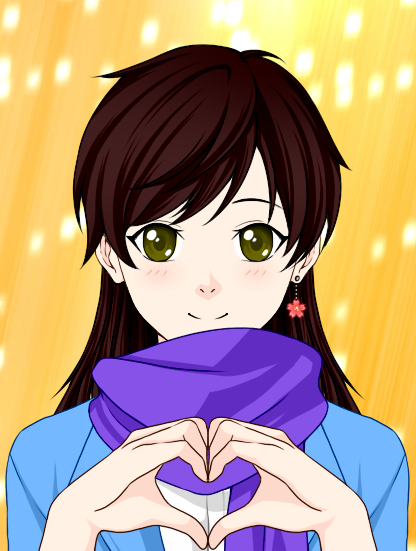 Basic Info:
Name:
Lilia Inuzuka
Age:
15
Gender:
Female
Class:
A-1
Financial Ranking:
Middle Class
Physical Appearance:
Hair color/style:
Dark redd-ish brown in color, reaches mid-back. It is usually let down
Eye color:
Dark olive green
Appearance:
Tall, Conservative, always wearing a purple scarf, she also has both her ears pierced, but only has an earring on the right side
Height:
5 feet 8.5 inches
Weight:
130 pounds
Other:
Personality Info:
Personality:
Lilia is rather shy at first, but once you get to know her she is just the silliest and cutest little thing ever. She has a strong love for novels and urban legends, the scarier the better. She is selfless and willing to help just about anyone. Lilia also has really low self confidence, and doesn't think of herself very highly.
Likes:
Books, Video games, Art, and her friends
Dislikes:
Attention hogs, and over-gushy romantic lovey-dovey displays of public affection
Talent(s):
Drawing and playing the piano
Habit(s):
Lilia will often blush when anyone gets too close to her, and she will stutter while talking to strangers.
Fear(s):
Being alone, being judged, and the dark

History Info:
Birthday:
September 5th
Guardian(s):
Lilia's guardian is her AWESOME aunt, Homura and her uncle Iruka
Guardian(s) Occupation:
Homura and Iruka's occupations are owning a book store, a rather popular one at that.
Sibling(s):
An older sibling by 3 minutes, Renji Inuzuka, who is also her twin brother
History:
(At LEAST 5 sentences!) Lilia's life has been quite interesting, considering her parents had passed away in a car accident. After the accident, at which Lilia and Renji were 5 years old, they went to live with their mother's sister and her husband, Homura and Iruka. Homura is a hard working woman, who never had any children of her own, and as sad as she was that her sister passed away, she was glad that she had children to raise. At around the age of 10, Renji and Lilia had met Haruhi, and had become friends to a degree. Lilia and Renji had gone to a pubic middle school, and earned scholarships to Ouran Academy. Once there, Renji had gotten whisked away by the Host club, and was forced into being a member, in a similar way to Haruhi. Homura and Iruka had been very busy since the twins started high school, and so the twins would often be home alone. But when Renji became a member of the Host club, Lilia would be at home alone, which she disliked severely. And so she tags along to the Host club meetings and events, for she is very shy, and likes to stay near her brother. Both Lilia and Renji get along with the Host club quite well, and were surprised to see Haruhi there. Seeing as though Lilia was too feminine to join the Host club a a Host, she decided to help with promo pieces for events, considering her artistic skills were very good. She also helps out whenever she can. Another good thing about this situation, is that a lot of the other female students just find Lilia to be the cutest girl ever, and will often tease her to get her to blush, since it is quite adorable.
Is this good enough?
Other:
She doesn't wear the girls uniform, but a black skirt, black tights, white button up and the boys uniform blazer. Lilia don't like no marshmallow dresses :I